Will you be the winner of the 2017 Study Grant!?

Through a Clinical Study Grant, Wellspect HealthCare is encouraging research and evidence based practice related to spinal cord injury care. The generation of clinical evidence will expand nursing knowledge in the therapeutic area of bladder catheterization and bowel management. Through properly conducted independent study, meaningful published data will benefit both patients and healthcare professionals in the field.

** A great opportunity for you to do that piece of research you were always planning! **
** Will look great on your CV **
** Fantastic opportunity for professional development **
Deadline: 1st September 2017.
---
proposal_clinical_study_grant_sci_nurses_2017_application.pdf
File Size:
339 kb
File Type:
pdf

Download File

---

Congratulations to

Bridget Stroebel, South Africa - Winner of the 2016 Study Grant - More information soon!
Winner of the 2015 Study Grant - Mandira Baniya - Update of her work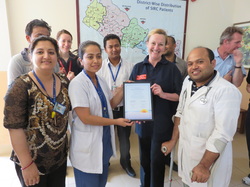 Hello friends! Namaste from Nepal.
First of all, I am proud to be associated with the International network of SCI nurses. It is a wonderful platform for nurses like myself working in the field of SCI to broaden existing level of knowledge and conduct scientific studies.
I personally believe, International Network of Spinal Cord Injury Nurses truly understands the need for evidence based practices and maintaining the quality of nursing practices in SCI nursing. It can be achieved only through strong networking among we nurses practicing in SCI and continued search for evidences.


Looking at the world scenario, every year, around the world, between 250 000 and 500 000 people suffer a spinal cord injury (WHO). Mortality risk is highest in the first year after injury and remains high compared to the general population. Preventable secondary complications such as pressure ulcer, urinary tract infection, and renal failure are leading causes of deaths following SCI in developing countries. As nurses, we have major roles in preventing such conditions along with other health professionals, not only in the health institutions but also in the community. Unfortunately, majority of the health workers do not know about the need for rehabilitation in SCI. Since SCI may lead to lifelong disability among the people who sustain SCI, health professionals need to be aware of all aspects of this condition.


Contextually, very fewer researches are conducted and published. Researches in the field of SCI are almost non-existing. International Network of SCI Nurses has quite addressed our needs and offered an opportunity to apply for a clinical study grant conduct research in SCI every year. It was my privilege to be selected for the grant in the year 2015 for my topic 'Practice of Intermittent catheterization among people with spinal cord injury'. This added great determination in me to conduct the study as well as I am sure, this study will help in developing a guideline for intermittent catheterization (IC) practices, promoting IC practices and increase awareness about IC among health worker in Nepal. With increased promotion of IC practices among the clients and health workers, we can reduce bladder related secondary complications.


The study began from September 2015, three months later than the expected schedule because of the devastating earthquake that hit Nepal on 25th April 2015. This study has revealed many facts about IC practices in Nepal. During the process of data collection, it was quite disheartening to find that many of the patients are not adherent to IC as a method of bladder management. They have switched to indwelling catheterization. Major causes were lack of knowledge about IC, unavailability of the materials and inaccessibility.


Obviously, this study is a landmark study in bladder management following SCI in Nepal which has guided towards various other studies. To recommend some of them, bladder management following SCI, knowledge about IC among the nurses in Nepal, availability and accessibility to plane catheters, comparative study on quality of life among clients practicing IC and indwelling catheters etc. I have further plans to continue my present study in large scale.


I also got an opportunity to present my research in the ASCON Conference 2015 which was held in December 2015.


I want to suggest all the SCI nurses to join the network of SCI Nurses and grab the opportunity to conduct a quality study in SCI. This is a chance for you to contribute in SCI and SCI literature in one hand and build your career on the other.


My best wishes to you.


Mandira
Spinal Injury Rehabilitation Center
Nepal

---