Spinal Cord Injury Day - 5th September 2016 - Announcement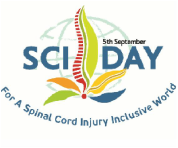 ​"International Days" are celebrated to mark important aspects of human life and history. The International Spinal Cord Society (ISCoS) has decided to observe Spinal Cord Injury (SCI) Day on 5th September with the intention of increasing awareness amongst the General Public. It is anticipated that the awareness would facilitate an inclusive life for persons with disability and ensure greater chances of success of Prevention Programmes.
5th September, a neutral day without any special significance, was considered as SCI Day since the weather across the globe is likely to be conducive for outdoor activities. Also, schools and colleges are generally open allowing the younger generation to be targeted.

An Ad Hoc Committee has been constituted by ISCoS to plan and implement the initiative. The various activities which would be considered by ISCoS and its Affiliated Societies to mark the occasion are as under:

• A press release would be issued by ISCoS and all Afiliated as well as related Societies at least 2 weeks before the SCI Day. The Ad hoc Committee would circulate a draft press release which various societies could modify and translate to suit regional requirements. A press conference could be held by the Societies on or before 5th September (preferably one week before the day).
• A slogan along with a logo for the SCI Day has been adopted by ISCoS and Affiliated Societies. The slogan and logo would appear prominently on the website of ISCoS & all Societies as well as on all correspondences of the officials and members including the press release. The slogan could be translated by various societies in the local language.
• The Prevention audiovisuals and radio jingles already prepared by the ISCoS Prevention Committee and available on the website of ISCoS, would be uploaded on the website of all Afiliated Societies as well so that they could be downloaded and used by anyone for creating awareness. Affiliated Societies could endeavour to have them translated into regional languages, if this has not been done already. Affiliated Societies would explore options to have them screened in the national and/ or regional electronic media.
• ISCoS would write to all Allied Specialty Societies, NGOs, Foundations and Associations to make them aware about the initiative. They would be requested to collaborate for the event's success by participating in the activities, displaying the slogan, making announcement s on their website and sending a mailer to their respective members to make them aware about the initiative as well as solicit their participation. The Affiliated Societies could approach the Allied Regional Societies in this regard.
• ISCoS would start the initial contact with world bodies including UN, WHO, UNICEF, etcetera to declare 5th September as an official 'International SCI Day'.
• The possibility of selecting International Brand Ambassadors to propagate the message on SCI Prevention and Management would be explored. Affiliated Societies could appoint Regional / National Ambassadors.

In addition ISCoS, Affiliated Societies and its members would be encouraged to organize any of the following activities commemorating the Day in their respective regions:

• Symposiums on specific topics, like,
◦ Prevention of SCI
◦ Accessibility in public life
◦ Wheelchair and Assistive Technology workshops
◦ Sexuality and Fertility in SCI
◦ Vocational Rehabilitation in SCI
◦ Advances in SCI management
◦ Family support and Support of family in SCI
◦ Recreational opportunities and social inclusion after an SCI
• Articles/panel discussions/advertisements in print and TV media
• Awareness and education programmes in the community, especially in schools and colleges. The awareness programmes could be simultaneously used for propagating prevention programmes for spinal cord injuries. The programmes in educational institutes can include the following:
◦ Screening of Prevention AVs
◦ AV on successfully integrated SCI patients
◦ AV on skill training
◦ Poster competition
◦ Lectures/Symposiums
◦ Training of trainers (Mentor development) on effective evacuation of accident victims, which then could be percolated down to other trainers and children
• Awareness campaigns through social media including Facebook, Twitter and Whatsapp
• Poster competition amongst different sections of societies
• Screening of audiovisuals/ films pertaining to SCI via different medias
• 'Wheelchair day' which could include,
◦ Basketball
◦ Cricket
◦ Rugby
◦ Lawn tennis
◦ Table Tennis
◦ Rally/marathon
◦ Race
◦ Skill training
◦ Fashion show
◦ Dance performance
◦ Workshop
◦ Distribution of wheelchairs amongst deserving persons of the society
◦ Sports competitions
• Pre-recorded messages through mobile phones
• Creation and broadcasting of radio jingles on SCI
• Vocational training and employment carnival
• Involving policy makers of the region for propagating information pertaining to SCI, through the following initiatives:
◦ Observation of "Spinal Cord Injury Day" in their region
◦ Legislation and enforcement of prevailing disability related laws
• Liaising with NGOs for various initiatives as under:
◦ Promoting use and availability of safety harness while working on construction sites, trees, heights etc.
◦ Innovative local techniques like fruit picking while standing on ground using an assistive device, manufacturing of safety harness with locally available material. .
◦ Promoting proper lifting techniques with gadgets instead of carrying load on head.

The Prevention Committee of ISCoS will make an endeavour to undertake some of the global activities like awareness campaigns through social media. It will also develop and manage a web page of 'SCI Day' along with a Facebook and Twitter handle, which shall be centrally controlled.

For deeper reach to the society and the desired impact there is a need to involve the government (both at central and state levels), government organizations, corporate sector, media, NGOs, hospitals, schools, colleges and the world of entertainment, to name a few, and of course, the public at large.
ISCoS and its 19 Affiliated Societies will join hands and organize events in their respective regions to propagate the message of inclusive growth of the persons with spinal cord injury. ISCoS calls upon everyone to join hands in making this a memorable event. For details and updates, please visit www.worldsciday.org.

Message from Prof J J Wyndaele, President, ISCoS & Dr Harvinder Singh Chhabra, SCI Day Committee Chair:

Getting a spinal cord injury (SCI) is the most devastating event in a person's life.
Because the central organisation of many body functions gets disturbed and coordination between functions becomes difficult or impossible, the individual with SCI has to cope with many severe challenges.
The World Health Organisation (WHO) together with the International Spinal Cord Society (ISCoS) has joined forces to increase awareness amongst health authorities and the general population. One of the initiatives was the publication of the International Perspectives on Spinal Cord Injury last year.
Spinal cord injuries can happen to anyone and anywhere. Therefore it is of upmost importance that SCI management gets full attention and that the global awareness regarding prevention of SCI is brought into the limelight.
SCI can be prevented in many cases and various strategies are available. SCI rehabilitation outcome depends on knowledge, dedication and cooperation. When a disaster occurs extra effort is needed. A national and international collaboration of forces can make a real difference.
September 5th 2016 has been chosen as the First SCI Awareness day worldwide. Initiatives are planned in many places globally to increase knowledge and make SCI the subject of attention and effort.
Please look at further announcements and join hands to make these initiative a grand success.

Message from Ad Hoc Committee, ISCoS:

We are all aware that there is a substantial gap between "the possible" and that "actually available" to the people living with spinal cord injury. Many spinal injured people across the globe are deprived of an inclusive life which is otherwise possible. In addition not enough is being done for the prevention of these devastating injuries.
Just creating awareness can go a long way in changing this scenario. Fortunately this does not require a large economic resource. ISCoS has a membership of over 1,000 from 87 countries and has 19 Affiliated Societies. If all members and Affiliated Societies of ISCoS take up some suitable activities on Spinal Cord Injury Day we would move forward surely and steadfastly with this important objective. This initiative will not only help in prevention of this devastating ailment but also help persons with spinal cord injuries live a purposeful and meaningful life.
We will simultaneously pursue with other societies and global organisations like WHO to recognize the Spinal Cord Injury Day so that it could be made a true global movement.
---