Do you know the 'red flag signs and symptoms' of Cauda Equina Syndrome?"CES can present with one or with a combination of the following red flag symptoms. The more common symptoms tend to develop suddenly and often rapidly worsen, within hours or days. In other cases, people develop symptoms gradually:
Severe low back pain




Motor weakness, sensory loss, or pain in one or more, but commonly both legs




Saddle anaesthesia (unable to feel anything in the body areas that sit on a saddle)




Recent onset of bladder dysfunction (such as urinary retention or incontinence)




Recent onset of bowel incontinence




Sensory abnormalities in the bladder or rectum




Recent onset of sexual dysfunction



Loss of reflexes in the extremities"
Patients presenting with symptoms above MUST BE REFERRED IMMEDIATELY to an Emergency Department for an in-depth neurological assessment (including MRI) to reduce the risk of permanent impaired/absent bladder, bowel and sexual function
www.caudaequinauk.com
---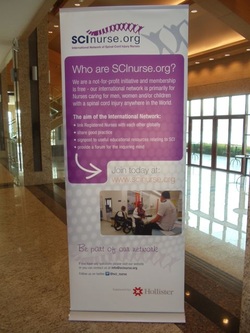 Coming soon:
An example of a Nurse Led Cauda Equina Service.
A cost effective provision of holistic care for patients with bladder, bowel and sexual function impairment/absence.
---